Exhibition: Split Decision
Exhibition Design, Curation, Spatial Graphics, Interaction Design
Co-Designer for Interaction: Claire Dong
Split Decision documents the process of the 2020 election cycle. See how COVID has effected the process of voting itself and how it might have affected the results of the election. Showcased are the eight major partisan issues of 2020:
the pandemic, economy, Black Lives Matter movement, healthcare, immigration, climate change, gun control, and supreme court
. Learn how both parties stood on each of these topics through specific events over time.
In order to keep neutral and not lean on any political parties, the whole project just use blue and red to represent two different opinions. And the gradient implies the transition that happens after the election as well as the conflict of these two kinds of opinions.
What is a split decision?
A decision based on a majority verdict rather than on a unanimous one, especially on a court panel or among referees judging the winner of a boxing match.
Floor Plan & Elevations
There are eight voting booths. Each of them represents a topic. The back of the booth has an interaction screen that will display information about this topic, as well as two buttons for voting. The front of the booth is a LED screen that displays the name of the exhibition. Meanwhile, the result of voting will be displayed on the survey wall as a live infographic.
Eight specific events are picked to help people understand what has happened during 2020. Each collage on the wall corresponds to one of the key events that happened during this election year, labeled with the time of the event and a short intro. Started from January 2020 and ended in Janurary 2021, it strechted those events on the wall in a chronological order.
Live Voting Result Infographic
3D Model & Rendering Views
Software: Sketchup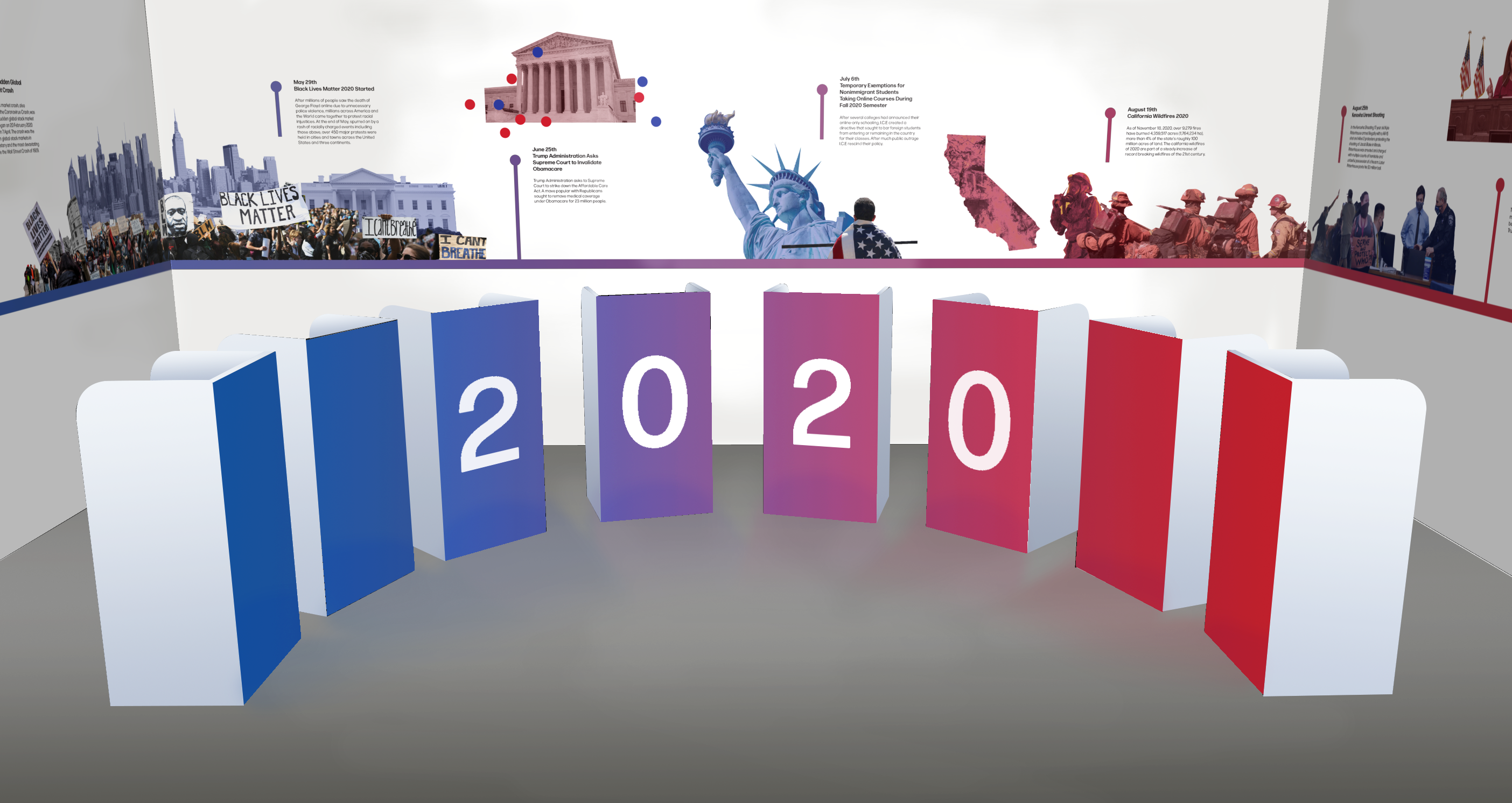 Screen Interactions (Designed by Claire Dong)

Screen Covers for All Topics